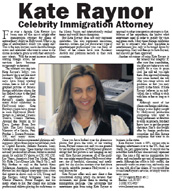 Law Offices of Kate L. Raynor & Associates
15720 Ventura Blvd Suite #312
Encino, CA 91436
1-877-872-9666 Toll Free
Monday-Friday 9:00am-5:00pm PST
818-501-3641 Ph
818-907-2234 Fx
http://www.kateraynor.com/
The Law Offices of Kate L. Raynor and Associates is an experienced Los Angeles based U.S. immigration law firm that helps both individuals and corporations with respect to all matters that relate to U.S. Immigration, Naturalization, Visa and Consular Law. We assist our clients in obtaining positive results in a timely and professional manner.

Immigration Attorney Kate L. Raynor, Esq.

Immigration Attorney Kate L. Raynor has dedicated herself to the practice of USA Immigration Law. She handles all types of immigration cases on behalf of immigrants desiring to become lawful residents of the United States. Atty. Raynor has distinguished academic credentials. She graduated in the top four percent of her undergraduate class at the University of California, Los Angeles (UCLA) and top ten percent of her class from University of California, Hastings College of Law. Attorney Raynor has worked in the entertainment industry for the past ten years and specializes in immigration issues for the entertainment industry. She has represented foreign celebrities from all over the world. Kate Raynor's dedication to her clients has earned her reputation as one of the top entertainment immigration attorneys in the United States.